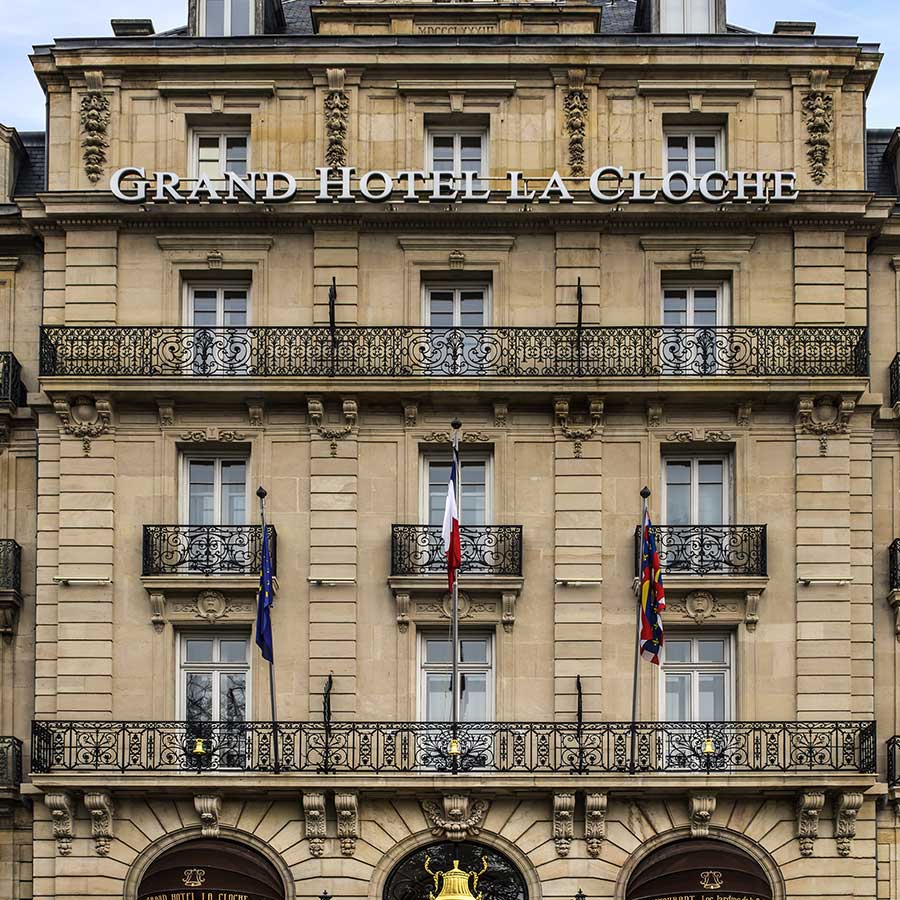 The legend goes back to 1424. At this time, "L'hostellerie de La Cloche" was well established on "Rue Guillaume", the current "Rue de la Liberté". Two centuries later, the hotel has become a high-quality place, visited by VIPs of the moment. Due to the creation of the "Place Darcy" in 1880, M. Edmond Goisset, one of the owners, opened a new prestigious hotel in 1884. Took over by Louis Gorges in 1902, La Cloche stayed at a high-level of excellence for years and became a haven of peace for politics, artists…
The seventies stopped this beautiful era. Wealthy customers became scarce. In 1973, La Cloche was for sale. A property developer presented a huge project of demolition and reconstruction. Furniture were auctioned, and people fight over crockery, silverware and furniture… Shortly after, work began, but a charity rallied around the facade safeguard. Petitions multiplied, which stopped bulldozers. The issue was on the rise and published on national newspapers. On the 29th of October 1975, the Culture Secretary of State registered La Cloche facade at Historical Monuments: La Cloche was saved! The hotel opened again in 1982.
In 1984, Alain Jacquier and his family bought La Cloche. They took over the hotel and the tradition and know-how of yesteryear. In 1994, the hotel joined the prestigious Sofitel hotels chain. Then, in 2013, Sofitel La Cloche became Grand Hôtel la Cloche and part of the charming MGallery by Sofitel hotels. In 2016, a huge revival project is launched. Nowadays, it is the only 5-star hotel of the city.
That is how Grand Hôtel La Cloche hosted various celebrities from all over the world, like we can read on the hotel visitors' book: Lamartine, Napoléon III, Camille Saint-Saëns, Rodin, Bourvil, De Funès, Jean Marais, Grace de Monaco, Maurice Chevalier, Guy Bedos, Charles Aznavour, Joan Baez, Joe Cocker, Jean Reno, Jacques Villeret, Luc Besson, Philippe Noiret, Patricia Kaas, Jean Dujardin, Gérard Lanvin, Georges R. R. Martin, M.C Solaar...!